Estimate My Cost
---
No Surprises Act
Conway Regional Health System complies in the No Surprises Act, a federal law that protects consumers who get coverage through their employer (including a federal, state, or local government), through the Health Insurance Marketplace® or directly through an individual health plan Beginning January 2022, these rules will:
Ban surprise billing for emergency services. Emergency services, even if they're provided out-of-network, must be covered at an in-network rate without requiring prior authorization.
Ban balance billing and out-of-network cost-sharing (like out-of-network co-insurance or copayments) for emergency and certain non-emergency services. In these situations, the consumer's cost for the service cannot be higher than if these services were provided by an in-network provider, and any coinsurance or deductible must be based on in-network provider rates.
Ban out-of-network charges and balance billing for ancillary care (like an anesthesiologist or assistant surgeon) by out-of-network providers at an in-network facility.
Ban certain other out-of-network charges and balance billing without advance notice. Health care providers and facilities must provide consumers with a plain-language consumer notice explaining that patient consent is required to get care on an out-of-network basis before that provider can bill the consumer.
For consumers who don't have insurance, these rules make sure they'll know how much their health care will cost before they get it, and might help them if they get a bill that's larger than expected.

The rules do not apply to people who are covered by programs like Medicare, Medicaid, Indian Health Services, Veterans Affairs Health Care, or TRICARE because these programs have other protections against high medical bills.
No Surprises Act Disclosure Notice
No Surprises Act Uninsured/Self-pay Good Faith Estimate Notice
---
Price Transparency
The Centers for Medicare and Medicaid Services (CMS) require all hospitals to publish their standard charges and payer negotiated rates in a downloadable, machine readable format.
To download this file, please follow the instructions below.
Click on START ESTIMATE
Read the disclaimer and click on I Agree
Scroll down the next page to "Click here to download all standard charges for this facility"
To obtain an estimate of your own specific out-of-pocket costs, we recommend using our Estimate Tool below.
---
Estimate Tool
Conway Regional Health System is committed to helping our patients make informed choices when it comes to their healthcare needs. Our online estimator tool utilizes your current insurance benefits to estimate your out of pocket medical expenses for procedures both in the hospital or at one of our many clinics.
Click on the START ESTIMATE button below to enter your insurance and procedure information. Please have your insurance card handy.
Please Note: The estimate you will receive may include both physician (professional group) charges and hospital (facility) charges. Be sure to click on View Estimate Details when your estimate is presented to see the breakdown (see example image below).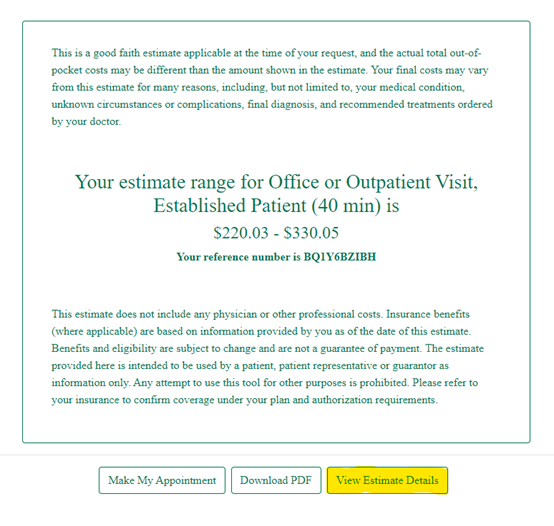 If you are looking for an estimate for a procedure performed in the hospital, the Professional Group charges would only apply if the procedure is being performed by one of Conway Regional's employed physicians.
If the performing physician is a Conway Regional physician, then both parts of the estimate would apply and you should use the information in the Summary section of the estimate details.
If you are looking for an estimate for procedure performed in one of our Conway Regional clinics, then only the Professional Group charges would apply.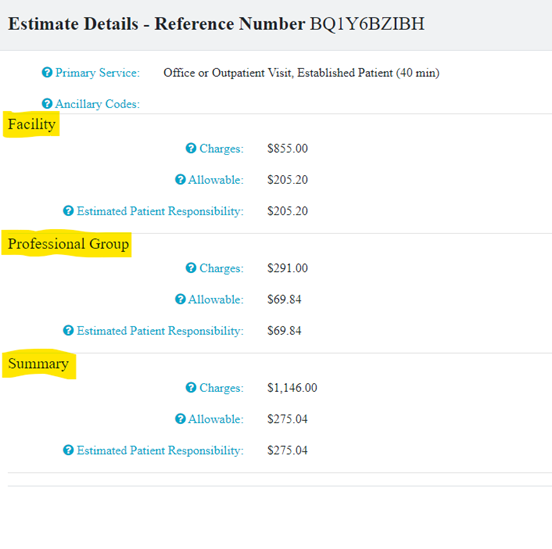 If you have questions, please feel free to call our staff for assistance:
For Hospital Estimates – call 501-932-3355
For Clinic Estimates – call 501-852-1363