Physician Recruitment
Thank you for your interest in Conway Regional. This section of the site is created specifically to provide you with information about Conway Regional Health System and opportunities available.
Conway Regional provides complete health care services to a growing seven-county area. We work with some of the best and brightest physicians in the area to help provide patients with comprehensive care. We hope you will consider the possibilities at Conway Regional and explore our site.
About Conway Regional
Conway Regional Health System strives to provide high-quality, compassionate health cares services. With more than 125 active staff physicians and a patient service area population of over 150,000, Conway Regional is a hub for both primary care and specialty care medical activity. Conway Regional has made significant investments in medical and information technology, and we maintain a high nurse-to-patient ratio.
In addition to family practice and internal medicine specialists, the following specialties can be found on the active medical staff at Conway Regional:
Anesthesiology
Cardiology
Dermatology
Emergency medicine
Gastroenterology
General and vascular surgery
Hematology/oncology
Hospitalists
Infectious Disease

Nephrology
Neurology
Obstetrics/gynecology
Ophthalmology
Oral and maxillofacial surgery
Orthopedic surgery
Otolaryngology
Pain Management
Pathology

Pediatrics
Psychiatry
Pulmonology
Radiation Oncology
Radiology
Rheumatology
Spine surgery
Urology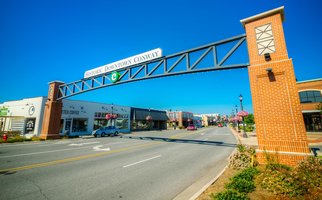 Conway at a Glance
Conway is a welcoming community that combines the best hometown atmosphere with the energy and excitement of one of the fastest growing, most successful cities in the state. It offers a mild climate, friendly people, higher education, a low cost of living, high quality of life, and exciting opportunities to grow a medical practice. Conway Regional Health System is ready to open doors of opportunity for you.
The city is truly a mix of the progressive and the picturesque. The lifestyle that residents enjoy is the result of hard work and foresight by city planners and community leaders. Residents for generations to come will find Conway a great place to live, raise a family, enjoy life, succeed in business, and call home.
Conway has a healthy business and industrial climate with a diversified local economy, as well as Conway Commons Shopping Center and a vibrant downtown area full of shops that attract locals and visitors alike. The faith community is strong and devoted to the well-being of the community as a whole.
The city services are excellent and are offered at economical rates, contributing to a low cost of living in the area. Civic clubs and service agencies are active and well-supported. The healthcare facilities are state of the art.
For those who enjoy outdoor recreation, there are ample opportunities to enjoy The Natural State year round. Those who enjoy the arts have countless local opportunities to choose from.
For more information, please contact Maria Kramer Wile, Physician Recruiter, at 501-513-5276.